Critical Thinking Question Classroom Poster
Questions: Building the Foundation for Critical Thinking - Classroom Poster (cm383)
This colorful language arts classroom 12" x 18" PosterEnvy poster will help your students develop critical thinking skills! Designed by teachers for fellow educators following the National Curriculum Frameworks and Common Core Standards - this poster will help teach your students strategies for getting beyond the basics of who, what, where, when and how and advance to better strategies. This poster is a PosterEnvy exclusive so you're not going to find it anywhere else in the world!
All of our posters are printed on high quality, 80lb. Satin paper so they're durable and will never wrinkle. We ship all orders out FAST (usually within 24 hours) in heavy duty shipping tubes and we have FREE U.S. SHIPPING! All of our posters are proudly designed and made in the U.S.A. and we 100% GUARANTEE you are gonna love your poster!
And don't forget that here at PosterEnvy.com - the more you buy the more you save - just use one of our money saving Promo Codes at checkout and you'll save BIG when you buy 2 or more posters!
12" x 18" PosterEnvy Exclusive!
Proudly Made in the U.S.A.
FREE U.S. SHIPPING!
100% Satisfaction Guaranteed
14 Brilliant Bloom's Taxonomy Posters For Teachers
by TeachThought Staff
You can get a ready-for-the-classroom version of Bloom's Digital Taxonomy for $6.95!
Bloom's Taxonomy is a useful tool for assessment design, but using it only for that function is like using a race car to go to the grocery–a huge waste of potential.
In an upcoming post we're going to look at better use of Bloom's taxonomy in the classroom, but during research for that post it became interesting how many variations there are of the original work. While a handful of the charts below only show aesthetic changes compared to others, most are concept maps of sorts–with graphic design that signifies extended function (power verbs), detail (clear explanations), or features of some sort (Bloom's Taxonomy tasks by level).
See also 10 Team-Building Games That Promote Critical Thinking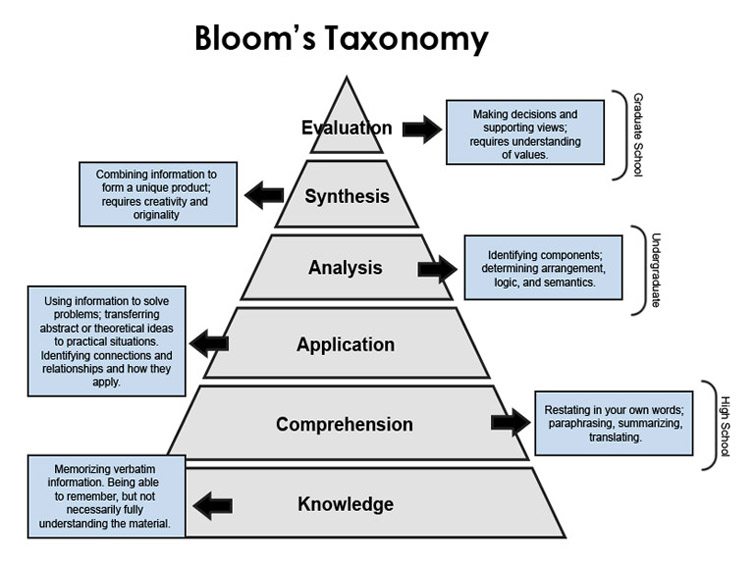 The follow simple, student-centered Bloom's graphics were created by helloliteracy!
The following "Bloom's pinwheel" comes from Kelly Tenkley and ilearntechnology.com: